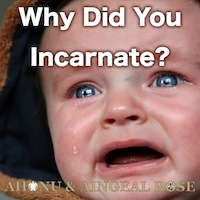 Arising from recent explorations into the depths of the chakra system, Aingeal Rose & Ahonu asked, "Why Did You Incarnate?"
This episode explores where you get your soul contract from, why you are here and what you came here to do. It opens the possibility that you can easily tap into your highest and best outcome.
Ahonu speaks about the difficulty in locating yourself in the cosmic womb, and how your purpose might be right in front of your face!
Ahonu & Aingeal Rose, as always, offer several ways to grow in awareness and to build mindfulness in these troubled times. They outline ways to be in the moment and to nourish each other's highest, heroic desires through the exploration of the chakras.
You can listen to all the podcasts on iTunes, on Google Play, iHeart Radio, or Stitcher Radio.                                                                                                 
Twin Flame Productions LLC
Website | Newsletter | Consultations